Loudoun Valley II residents in good standing can rent the Main Clubhouse at Loudoun Valley II.
A signed rental contract, full payment, security deposit, and proof of residency are required before a booking can be secured. All payments must be made in the form of check or money order. Please book at least a month prior to your event date.
For rental availability, please login to Fronsteps and click here to access the rental calendar. To request a event rental, please click here. For more information please email [email protected]
Available Clubhouse Rentals
Rotunda
This room features seating for 24 and room capacity of 70 guests. The Rotunda offers a casual setting with a lot of natural light. Rental of this room includes the bar and use of the kitchen is included.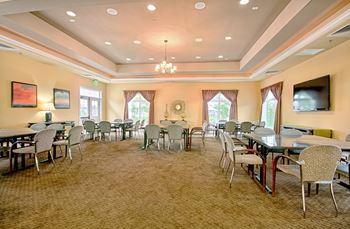 Meeting Room
The Meeting Room is located in the Main Clubhouse. This room is more formal with seating for 40 and room capacity of 70 guests.  This room includes a covered patio with seating for 10. Use of the kitchen is included.
Entire Main Clubhouse
The entire Main Clubhouse (including the Rotunda, Meeting Room, and Bar) is also available for rent. The Main Clubhouse is located at 43100 Barnstead Dr. Ashburn, VA 20148