Pool season runs from Memorial Day (May 27) to Labor Day (Sept. 2).
Everyone 4 years and older must have a pool pass to use the pools. Residents and tenants who have a pool pass from last year do not need to submit a new application. New residents and tenants should submit a completed Pool Pass Form to the Lifestyle Advisor's office at the Main Clubhouse. Renters must also submit a signed landlord absentee owner form. Pool passes cost $10 and
 must be paid for by check or money order. No cash, please. Fobs are needed to access the junior pools at Fair Ridge and Evergreen.
Inclement weather and other conditions beyond our control may cause the pool to close temporarily and without notice.
*RESIDENTS MUST HAVE A POOL PASS TO ENTER THE POOL*
Residents and Tenants: If you have the pool passes you used last year, you do not need to submit an application.
New Residents and Tenants: Please bring the completed Pool Pass Form to the Lifestyle Advisor's office located at 43100 Barnstead Drive. A photo will need to be taken of all residents receiving a pool pass. There is a fee for each pass and can be paid through check or money order. No cash accepted. Pool passes are issued to each individual aged 4 and older. Rental Tenants must have a signed absentee owner form.
10a.m.-8p.m.
Sunday through Thursday 
10a.m.-9p.m.
Friday and Saturday
Main Clubhouse
43100 Barnstead Drive
Evergreen Clubhouse
23443 Logans Ridge Terrace
Fair Ridge Clubhouse
43032 Foxtrail Woods Terrace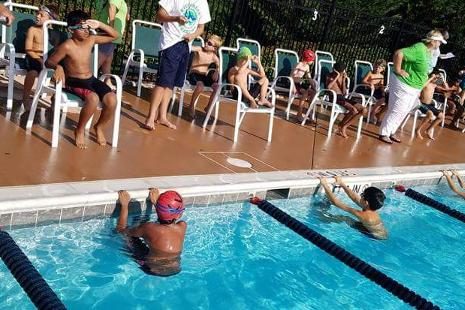 Viperfish Swim Team
The Viperfish participate in the Old Dominion Swim League along with 25 other teams and more than 1,000 families. The team includes more than 100 swimmers. They welcome all participants who meet the eligibility requirements and require parental involvement to make our team a success. They are a family focused organization that is run by volunteers who care about the long-term growth of our community swim team.